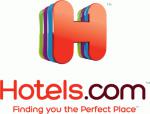 DALLAS, Feb. 14, 2012 /PRNewswire/ -- Hotels.com®, the market leader in online hotel booking and home to over 20,000 hotel destinations worldwide, is launching a new, globally unified marketing platform reflective of a global brand ethos effective February 14, 2012.
"Over the past twenty years, we've evolved from a phone-based sales company, to a web-based company and now, to a global, fully integrated web, social and mobile-booking company," said Victor Owens, vice president of marketing North America for hotels.com. "Hotels.com has the expertise to find our consumers the perfect place anywhere in the world. We felt that our branding should reflect our position as a global industry leader."
New changes to the global branding platform will continue throughout the year, with most countries seeing the largest part of the change effective in the second quarter of 2012. Changes, including new advertising, logos, tagline and, in some countries, a new website.
New advertising
SMART, the brand's animated spokesperson for the past several years, is evolving from an educated consumer to an expert hotel concierge offering viewers tips on how to enjoy a perfect hotel experience. Moving away from Claymation and into computer generated imagery (CGI), a new advertising campaign featuring the updated SMART will introduce new SMART family members and friends. 
New logo
Colorful and bold, the new logo is a visually striking way of showcasing the hotels.com expertise and presence in the travel and hotel industries. The new "H" logo represents the abundance of choices hotels.com provides in destinations, hotel types, and price points. With hotels.com offering so many resources to consumers like ever-changing hotel sales and deals, Welcome Rewards® loyalty program, last-minute deals and mobile booking options, the new "H" logo, along with several complimentary sub-logos, will easily differentiate which sales fall under which categories, making online hotel room shopping even more seamless than before.
New Tagline
Hotels.com conducted a Facebook poll with loyal consumers who positively vetted the new tag line: "Finding you the perfect place is all we do," which conveys both the opinion of consumers and the vast experience of the brand.
With over three million guest reviews, more than 145,000 hotels to choose from and vast expertise on the hotels.com website and social media channels, hotels.com continues to provide hotel-focused information and service.
Visit www.hotels.com, call 1-800-2-hotels, use our mobile apps, or book with a friend through our Facebook app Hotels WithMe for hotel deals and seasonal sales.  Other news, images and infographics are available at our media room: http://press.hotels.com/en-us/.
Press contacts:
Meghan Callaghan – Finn Partners for hotels.com
Phone: (212) 715-1608
Email: meghan@finnpartners.com
Taylor L. Cole, APR
hotels.com North America
Phone: (469) 335-8442
Email: taycole@hotels.com
About hotels.com
Hotels.com® is a leading provider of lodging worldwide, offering over 145,000 properties in over 60 countries from national chain hotels and all-inclusive resorts to local favorites and bed & breakfasts. Hotels.com is the smarter way to book travel by offering Welcome Rewards®, an industry leading loyalty rewards program; the real opinions of other travelers captured in three million Guest Reviews and; a Price Match Guarantee, so that those booking with hotels.com can be assured they are getting the best deal, either online or by speaking directly to a travel expert at 1-800-2-HOTELS 24 hours a day. For more information, please visit hotels.com. Hotels.com is an operating company of Expedia, Inc. (NASDAQ: EXPE). Follow us on Facebook at www.facebook.com/hotelsdotcom and Twitter via www.twitter.com/hotelsdotcom or visit the hotels.com Travel Smart Blog for consumer and business travel information. Download the mobile app here: http://www.hotels.com/deals/mobile_app/. Detailed Hotel Price Index data is available at: http://www.hotel-price-index.com, hotels.com, A Smarter Way to Book™.
Hotels.com, Welcome Rewards and the Hotels.com logo are either registered trademarks or trademarks of Hotels.com, LP. All other trademarks are property of their respective owners. © 2012 Hotels.com, LP. All rights reserved. CST # 2083949-50
SOURCE Hotels.com