Stocks rallied for a second consecutive day Tuesday, with the S&P 500 Index and Dow Jones Industrial Average up more than half a percentage point and the Nasdaq up 1.25% in intraday trading.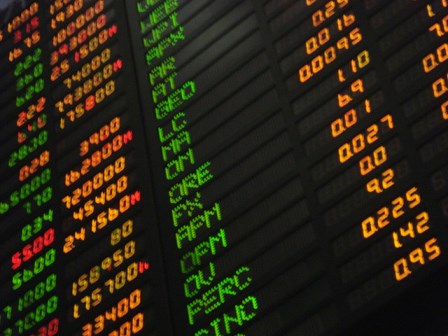 The second 2014 Federal Open Market Committee (FOMC) meeting kicked off this morning, the first to be led by U.S. Federal Reserve Chairwoman Janet Yellen, and markets will be listening closely for any clues regarding possible changes to the Fed's guidance on interest rates.
A number of stocks are logging headline-grabbing gains Tuesday on earnings, analysts' actions, company developments, and industry news. Here are 12 of today's hot stocks to watch.
Today's Hot Stocks List
Amazon.com Inc. (Nasdaq: AMZN) shares rose roughly 1% to $379 after the Wall Street Journal reported the Internet conglomerate will launch a video streaming device next month that will compete with the Apple TV, Chromecast, and Roku. The device is expected to debut in early April and will be available through retailers Best Buy and Staples. Reportedly, the device will connect to Amazon's streaming video service along with Netflix and Hulu. 
American Express Co. (NYSE: AXP) shares climbed nearly 1% to $91.86 after stating it will sell half of its iconic corporate travel business for $900 million to a group of investors, including Certares LP and Qatar's sovereign wealth fund.
Biogen Idec Inc. (Nasdaq: BIIB) shares climbed $7.72, or 1.94%, to $352.29 Tuesday. The gains followed the company's announcement that the U.S. Food and Drug Administration (FDA) has extended the initial Prescription Drug User Fee Act (PDUFA) date for its review of the Biologics License Application for marketing approval of PLEGRIDY (for multiple sclerosis). The FDA indicated the three-month extension of the PDUFA date is required to allow additional time for review of the application and did not ask for additional studies.
CannaBusiness Group (OTCMKTS: CBGI) shares soared 25% to a new high of $0.48. Sending shares of the Mission Viejo, Calif. company higher was news it has filed a letter of intent to lease a number of Washington State cannabis (legal marijuana) retail outlets.
Devon Energy Corp. (NYSE: DVN) rose 1.21% to $63.56 after RBC Capital Markets raised its price target on DVN to $76.
FactSet Research Systems Inc. (NYSE: FDS) shares rose 8% intraday to $114.37 after beating earnings estimates by $0.02 and reporting revenue in line with expectations. The financial information provider guided Q3 earnings per share (EPS) in line with forecasts but projected higher revenue for the quarter than the consensus. The Norwalk, Conn. company also reported it acquired the remaining 40% interest in Matrix software.
Microsoft Corp. (Nasdaq: MSFT) jumped nearly 5% intraday to $39.90, a new 52-week high. The gains followed reports the company plans to introduce its signature Office software for Apple Inc.'s (Nasdaq: AAPL) iPads later this month.
Oracle Corp. (NYSE: ORCL) shares were up 1.3% intraday to $38.73. Shares got a lift after Evercore Partners raised its price target on the software giant to $40. That followed a similar increase last week from Wedbush, as well as a Barclays boost last week from $41 to $44. ORCL reports Q3 earnings after the close Tuesday. Expectations are for EPS of $0.70, a nickel better than the same quarter a year ago.
Prosena Holdings NV (Nasdaq: RNA) shares surged nearly 20% intraday to $8.80 after the Dutch biotechnology company announced "encouraging" data from a phase II study for a Duchenne's muscular dystrophy treatment.
Ralph Lauren Corp. (NYSE: RL) rose 1.3% to $163.56 after Barclays Bank initiated coverage of the high-end clothier with an "overweight" rating and $180 price target.
Tesla Motors Inc. (Nasdaq: TSLA) shares rose 3% to $241 intraday after Baird Capital Markets upped its price target on the stock to $275 from $245.
Wal-Mart Stores Inc. (NYSE: WMT) rose 0.30% to $74.91 in morning trading after announcing it will be starting a program that allows customers to trade in videogames and have the value received applied to buying anything at Wal-Mart or Sam's Club stores.
Bank insurers have been betting your money at the deal table. This is a story about how nothing has changed, and why another bank crisis is coming...
Tags:
best stocks 2014
,
best stocks to buy
,
best stocks to buy 2014
,
best stocks to buy now
,
best stocks to buy right now
,
best stocks to buy today
,
best stocks to invest in
,
best stocks today
,
Best Tech Stocks to buy Today
,
Hot Stocks
,
hot stocks 2014
,
hot stocks list
,
hot stocks to watch
,
hot stocks today
,
stock to buy
,
Stocks to Buy
,
stocks to buy 2014
,
Stocks to Buy Now
,
stocks to buy today
,
stocks to invest in
,
stocks to watch
,
stocks to watch 2014
,
top stocks
The post Hot Stocks to Watch Today appeared first on Money Morning - Only the News You Can Profit From.