Dow Jones today, June 12, 2014: The Dow Jones Industrial Average slipped more than 100 points on Wednesday after the World Bank slashed its global growth forecast from 3.2% to 2.8%. This morning, U.S. stock index futures are flat ahead of data on the labor market and retail sales.

Here are the biggest stories moving the Dow Jones today: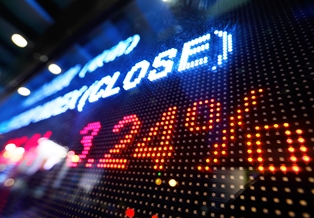 What's Affecting Oil Prices: Crude oil prices saw strong upticks in both West Texas Intermediate (up 1.69%) and Brent Crude (up 2.07%) varieties this morning. The swing comes after an Al-Qaeda linked militant group plundered Tikrit, Iraq, overtaking its second city this week, creating sharp supply concerns for the region. The news has placed U.S. diplomats on high alert in Baghdad, and forced the Iraqi government to seek U.S. military assistance.
Banks Behaving Badly: The U.S. investigation into BNP Paribas SA's (OTC: BNPQY) possible violations of economic sanctions has placed increased pressure on the company's leaders to resign. This morning, the firm's COO Georges Chodron de Courcel has asked to resign a few months ahead of his retirement date. The French government has criticized the U.S. Justice Department for seeking more resignations in addition to a $10 billion settlement of the case.
Shaking up the Tweets: According to tech news site Re/code, Twitter Inc. (Nasdaq: TWTR) is considering a shake-up to its top management. The report specifically focuses on a shift in the duties of its COO Ali Rowghani. The report indicates that the company's weak growth and struggles after insider stock sales have prompted the firm to question if it even needs a COO.
Today is the Day: Online giant Amazon.com Inc. (Nasdaq: AMZN) will launch "Prime Music" today in the company's first foray into streaming music. The program will allow users to download and stream more than a million songs as part of their $99 Prime subscription package. Though the service isn't as robust as Pandora or Spotify, Amazon will allow users to listen to music without advertising or additional fees.
Today's Economic Calendar: Today's schedule features Jobless Claims, the EIA Natural Gas Report, and the Fed Balance Sheet.
Earnings Nosedive: Canadian yoga retailer Lululemon Athletica (Nasdaq: LULU) saw shares plummet 13% in premarket trading today after reporting that quarterly net profits slipped by 60%. The company posted adjusted fiscal first-quarter earnings of $0.34 a share, which beat estimates by $0.02. The news comes the same day that the company announced its CFO John Currie will retire by February 2015.
Big News for Bitcoin: Online travel retailer Expedia Inc. (Nasdaq: EXPE) announced it will begin accepting Bitcoin for hotel payments after agreeing to partner with payment processor Coinbase. Over the last three months, the crytocurrency has been a bit volatile, with Bitcoin prices trading between $395 and as high as $660.
Full U.S. Economic Calendar June 12, 2014
Jobless Claims at 8:30 a.m.
Retail Sales at 8:30 a.m.
Import and Export Prices at 8:30 a.m.
Business Inventories at 10 a.m.
EIA Natural Gas Report at 10:30 a.m.
3-Month Bill Announcement at 11 a.m.
6-Month Bill Announcement at 11 a.m.
30-Yr TIPS Announcement at 11 a.m.
30-Yr Bond Auction at 1 p.m.
Fed Balance Sheet at 4:30 p.m.
Money Supply at 4:30 p.m.
This year's annual meeting of the American Society of Clinical Oncology (ASCO) turned us on to an important new trend - one that's shaping up as the next big profit opportunity in biotech. Here's how to profit from the "ASCO effect."
Tags:
$BNPQY
,
$CPST
,
$EXPE
,
$LUB
,
$LULU
,
$RLOG
,
AMZN
,
DJIA
,
djia today
,
dow
,
Dow Jones
,
dow jones futures
,
Dow Jones Industrial Average
,
Dow Jones Industrial Average today
,
dow jones today
,
dow today
,
Stock Market Today
,
TWTR
The post The Top Stories Moving the Dow Jones Today appeared first on Money Morning - Only the News You Can Profit From.