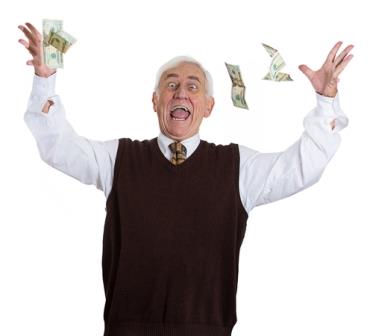 Many investors believe the best dividend stocks to buy are simply those that provide steady income - the price per share moves slowly over time, not offering much in the way of capital gains.
And the current near-zero interest rate environment has proven a big enough boon to make income-only investments more than worthwhile.
But that's about to change...
It's time to consider dividend stocks that deliver more than just income, as the U.S. Federal Reserve announced in July it will likely raise rates sooner than expected.
That's why we've compiled a list of four dividend stocks that do just that. These income payers are making brilliant moves right now to set up big share-price gains in 2015.
Four of the Best Dividend Stocks to Buy Now
Siemens AG (OTCMKTS ADR: SIEGY)
Siemens is a German giant with a 150-year-plus pedigree. German Chancellor Angela Merkel has called it "a flagship of the German economy." With operations all over the world, the engineering company has business in energy, healthcare, and infrastructure.
For instance, in the first half of 2014, SIEGY was responsible for 81% of the global offshore wind turbine market. It has more than 1,000 traffic control centers globally - more than any other company. And through innovative medical imaging machines, hearings aids, and more, Siemens' healthcare business has become its most profitable division.
The company brought in a whopping $6.1 billion in net profits on revenue of $104.5 billion in 2013. Trading at roughly $125 a share, SIEGY has a market cap of more than $111 billion and strong financials.
"It has a 7% operating margin, and a 17% return on equity," Money Morning Defense & Tech Specialist Michael A. Robinson said in August. "In its most recent quarter, it grew earnings per share by 111% and last year generated some $5.1 billion in free cash flow. And it pays a roughly 3.2% dividend."
But what makes Robinson call this a top dividend stock to own in 2015 is what Siemens is doing to deliver on share price.
First, it appointed new Chief Executive Officer Joe Kaeser in July 2013, and what he's doing now will grow Siemens' business even more - and improve profits.
"Joe Kaeser has worked to instill an ownership culture, urging personnel to 'always act as if [Siemens] were your own company,'" Robinson said. "Kaeser recently unveiled his broad vision for Siemens in a program he calls Vision 2020. He wants to get deeper into such tech fields as Big Data, factory automation, cloud computing, and information technology services."
Second, SIEGY is rumored to have plans to spin-off its healthcare operations, possibly as a publicly traded company.
And that could be a huge boon for the share price.
"We've talked about spin-offs in the past and how they can hand tech investors windfall profits," Robinson said. "Indeed, research consistently shows that spin-offs can beat the overall market by as much as 30%. Thus Siemens is a rare breed in the overall tech sector. It's set to become a growth firm once again."
General Electric Co. (NYSE: GE)
Siemens isn't the only classic dividend stock that's undergoing a profit-unlocking spin-off.
On March 13, General Electric announced that it filed an initial public offering (IPO) of its North American retail financing unit. Spin-off Synchrony Financial (NYSE: SYF) supplies retail credit cards and reportedly makes credit card loans to more than 55 million American consumers.
Since Synchrony began trading publicly on Aug. 1, GE stock has added 3.7%.
What's more, GE's $17 billion June deal to scoop up the power and electrical-grid businesses of France's Alstom SA (OTCMKTS ADR: ALSMY) "is another reason to buy GE," according to Money Morning Executive Editor William Patalon III.
During its fiscal 2013 financial year, Alstom's power and grid businesses generated $20.2 billion in sales and $1.7 billion in operating income. In the near term, GE said the buyout will add as much as $0.10 a share in 2016. In the long run, GE said the new assets will create more than $1.2 billion in "cost synergies."
"The Alstom deal adds another bullish catalyst: The new assets will add immediately to earnings," Patalon said in July. "[GE] just has a lot going for it right now. It's slimming down."
Meanwhile, GE has traditionally been one of the best dividend stocks to own - it's paid out roughly $18.2 billion to investors via share buybacks and dividends in its history. It's currently good for a hefty 3.37% yield.
"All in all, this is a major global industrial/technology company that's poised for a strong rebound - meaning you're getting a shot at the stock at just the right time," Patalon said. "That makes it a great 'safety play' if the current record run in U.S. stocks were to sputter - or even stall."
ABB Ltd. (NYSE ADR: ABB)
Zurich-based ABB is a power and automation tech company that operates in roughly 100 countries. It's the largest supplier of power grids, industrial motors and drives in the world, and also the largest provider of generators to the wind industry.
And Money Morning Chief Investment Strategist Keith Fitz-Gerald has called it a great hedge against rising interest rates.
"ABB is a company that can actually benefit from rising rates," Fitz-Gerald told readers on Aug. 22. "It's a 'global challenger' with strong cash flow, experienced management, and a powerful brand. Valuations will continue to improve as money flows in and companies like ABB that maintained pricing power will head sharply higher."
Still, ABB's had a tough year so far, with shares down more than 12% despite an increasing global need for electrical systems. But, as Fitz-Gerald explained to Money Map Report subscribers last month, the factors holding back ABB are short-term problems only. The company has seen order growth and is restructuring unprofitable business units, and these changes will be seen in the bottom line numbers.
Just on Tuesday morning, ABB CEO Ulrich Spiesshofer announced a $4 billion share buyback. Buybacks are a great way to return cash to shareholders.  
"Buying our own stock, giving $4 billion back to the shareholders, is a signal of confidence that we will create even more cash in future," Spiesshofer said.
In the long term, Fitz-Gerald sees ABB as one of the best dividend stocks to own, especially with its 3.4% yield.
"I still see double-digit free cash flow growth, tremendous operating asset efficiency, and a structurally solid company that's worth your money and your attention," he told subscribers.
American Water Works Co. Inc. (NYSE: AWK)
Founded in 1886 and headquartered in New Jersey, American Water is a public utility company with operations in the United States and Canada. It provides services to 14 million people across 30 states and in Ontario. It's another "global challenger" that Fitz-Gerald recommends as a way to hedge against rising interest rates.
"Since I originally recommended AWK stock to subscribers in late 2011, it's returned more than 69.43%," Fitz-Gerald said in July. "All the while, we've enjoyed some fantastic dividends, too."
Fitz-Gerald believes American Water still has a lot of room left to run. The company has continued expanding its service area, and announced the acquisition of Mt. Ebo Water Works and Mt. Ebo Sewage Works in New York earlier this year.
Moreover, American Water won several military contracts worth $140 million, is currently being considered by the Department of Defense for $11 billion in contracts, and continues to spend money on R&D - a great sign of growth.
The company is good for a 2.5% yield.
To get in on all of Fitz-Gerald's stock picks, learn more about Money Map Report here...
Tags:
Best Dividend Stocks
,
best dividend stocks to buy
,
best dividend stocks to buy 2015
,
best dividend stocks to buy before 2015
,
best dividend stocks to buy in 2015
,
best dividend stocks to buy now
,
best dividend stocks to buy right now
,
best dividend stocks to own
,
best dividend stocks to own 2014
,
best dividend stocks to own 2015
,
best dividend stocks to own before 2015
,
best dividend stocks to own in 2015
,
dividend paying stocks
,
Dividend Stocks
,
dividend stocks 2014
,
dividend stocks 2015
,
stocks that pay dividends
,
top dividend stocks
The post Four of the Best Dividend Stocks to Buy Before 2015 appeared first on Money Morning - Only the News You Can Profit From.