The Bitcoin price jumped as much as 9% today (Tuesday) after PayPal announced partnerships with the three largest Bitcoin payment processors - BitPay, CoinBase, and GoCoin.
The news arrested a two-month slide in the Bitcoin price that had dropped the value of the digital currency from more than $600 to under $400. The CoinDesk Bitcoin Price Index was hovering around $434 in mid-afternoon trading after reaching a high of $443.38.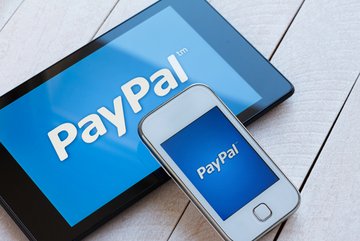 While PayPal has not added Bitcoin directly to its digital wallet, Bitcoin payments will be possible through its PayPal Payments Hub, a service the company offers to merchants. Initially the Bitcoin option will be limited to North American merchants selling digital goods.
Merchants that elect to include a Bitcoin payment option will have to choose which of the third party Bitcoin payment processors they want to use.
The move by PayPal, a unit of Ebay Inc., (Nasdaq: EBAY), not only reinforces the legitimacy of Bitcoin as a viable currency, but will make more people comfortable using it.
"I think this is a monumental moment," Steve Beauregard, CEO of GoCoin, told The Wall Street Journal, adding that the arrangement is "very pivotal for the Bitcoin ecosystem."
Today's news is just the latest indication that eBay is committed to expanding its adoption of the digital currency.
Just a few weeks ago, on Sept. 8, eBay announced that its Braintree payment processing subsidiary would begin accepting Bitcoin in the "coming months."
Related: Even with today's pop, Bitcoin is a relative bargain right now. Don't miss the Money Morning guide on "How to Buy Bitcoins."
And in comments made in June, eBay CEO John Donahoe made no secret of his company's desire to embrace Bitcoin.
"Digital currency is going to play an important role going forward," Donahoe said in an appearance on CNBC. "At PayPal we're going to have to integrate digital currencies in our wallet."
It's the first really positive news for Bitcoin in many weeks, which is why it had an immediate and dramatic impact on the Bitcoin price.
Meanwhile, the lack of any major negative catalysts has puzzled many observers of the digital currency as they watched it lose more than a third of its value since late July.
Among the theories floated is that Bitcoin miners may be selling more of their newly minted coins to pay the costs of keeping their rigs running, or that merchants who recently started accepting Bitcoin are converting the proceeds instantly to fiat currency (i.e., U.S. dollars).
Others have speculated that the recent strengthening of the U.S dollar has hurt Bitcoin prices.
The question now is whether the PayPal announcement will be a temporary boost or the start of a rally. From its all-time highs of more than $1,100 last fall, Bitcoin is down more than 60%.
And yet the Bitcoin community has not panicked, with many seeing the recent slump in the Bitcoin price as a buying opportunity.
Neither has it shaken the faith of a man who has a lot to lose, venture capitalist Tim Draper, a partner with Draper Fisher Jurvetson.
Draper bought all of the nearly 30,000 bitcoins auctioned off by the U.S. Marshals Service on June 27 - when Bitcoin prices were just under $600.
"I guess the markets aren't seeing what I am seeing. An entire economy is being rebuilt. I have a price target of $10,000 in three years. Even that may be pessimistic," Draper told CoinDesk earlier this month.
Follow me on Twitter @DavidGZeiler.
UP NEXT: Another positive development for Bitcoin this month was almost totally ignored. Less than two weeks ago the first U.S. Bitcoin derivative started trading. Here's why this is such a big deal for businesses that want to start using Bitcoin...
Recent Articles:
Tags:
bitcoin miners
,
bitcoin payment
,
bitcoin price
,
Bitcoin Prices
,
how to buy bitcoin
,
Why bitcoin prices are rising
The post Bitcoin Price Gets 9% Lift from "Monumental Moment" with PayPal Deal appeared first on Money Morning - Only the News You Can Profit From.