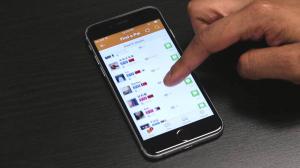 Surging Social Media App Stocks Capitalize on Brazen Users
VANCOUVER, BRITISH COLUMBIA, CANADA, November 21, 2016 /
EINPresswire.com
/ -- While most of the internet is familiar with names like Mark Zuckerberg of Facebook [
NASDAQ: FB
], or Sergey Brin and Larry Page of Alphabet Inc. (or "Google") [
NASDAQ: GOOG
], there's a good chance that the next big names in software growth stories will come out of China.
It's been a hot month for Chinese smartphone app developers, including for the messaging apps from Momo Inc. [
NASDAQ: MOMO
] and YY Inc. [
NASDAQ: YY
].
Boosted by a surge in popularity for both developers by Asian market users, both Momo and YY saw Credit Suisse initiate coverage on their companies with outperform ratings.
Momo in particular saw a record high $25.62 earlier this month, which was a doubling in price over the last two months. YY's company Q2 year over year revenue had tripled, driven by the launch of its live video service in Q3 of last year.
Longer established YY has also seen gains, matching a 4-month high of $55.92 on September 2, and currently sitting comfortably at $54.48 prior to Monday's market open. This is significantly higher from a summer low of $31 in late July.
While YY is more established, it's Momo that's got the steadiest momentum at the moment, and has already reached a milestone of nearly 70 million monthly active users.
Unlike internet giants Facebook and Twitter [
NYSE: TWTR
], Momo and YY allowed public traders in on the story at an earlier stage. Both Facebook and Twitter did most of their major growth as private companies, only opening the door to the public through major IPOs that were already at high-end established prices.
For investors looking to capitalize on social messaging app development, both Momo and YY are looking like they're here to stay. Driven by a deep pool of heavy-users in Asian markets, it's reasonable to believe that the next big app will come from this part of the world, instead of the West.
Momo the Chameleon
When it first came on the scene, Momo was looked at (somewhat incorrectly) as a mere hookup app. However, the app gained a lot of its traction through its diverse types of interactions.
For instance, users of Momo have branched into using the app for music recommendations, and to support local musicians. Fans of bands can help build a groundswell of popularity for new songs, or also to shower the bands with praise in the form of micro-gifting.
In fact, Momo gains a lot of its revenue from users buying each other digital gifts, like flower bouqets, and yachts. Whereas, North American users don't typically make as many micro purchases, they're more inclined to purchase upgrades, and spinoff software.
In the case of Momo, the company's stock went on a steady 66% price uptick after the company introduced live video service. The rise was more a steady incline, rather than a day of spiking.
How did one upgrade to the app result in such a steady growth spurt?
Adding live video basically tripled the company's revenue, accounting for $57.9 million of the company's $99 million in revenue. Just the live video revenue alone in Q2 of this year was as big as the company's total revenue in the first half of last year.
The Next Momo?
While Momo has been using its geolocation-based interaction advantage to compete with the WhatsApps and Facebook Messengers out there, the app is inherently limited by user proximity.
Steadily growing, but still at an earlier stage, is a somewhat competing app called Hello Pal: SPEAK TO THE WORLD by Hello Pal International Inc. [
CSE: HP
] [
OTC: HLLPF
] [Frankfurt: 27H.F].
Unlike Momo, Hello Pal is geared towards making connections outside of the user's general vicinity. Instead of talking only to the people within blocks of you, now Hello Pal users can have real-time conversations with people in other countries, and in other languages.
Developed by President and CEO, KL Wong, Hello Pal encourages users to reach out to people all over the world, to make new connections, and pick up new languages along the way.
Wong's had success with language software in the recent past, having developed the award-winning Brillkids program. Brillkids helped parents inspire their very young children to learn language skills like reading, as well as basic mathematics, all at a tender age.
Videos of Wong's own daughter breezing through reading demonstrations, and solving math problems at a pace usually reserved for child prodigies. Now Wong and his team are bridging some of the basics of Brillkids into HelloPal's language learning process, while incorporating more social messaging characteristics on top.
The app has so far been a near instant success, as it continues to grow and climb through the ranks of many online app stores.
HelloPal has grown quite rapidly, with new users signing on at a rate between 3,500 and 6,000 per day. It was impressive that it reached 670,000 users within its first year since launch, as recently as June of this year. It's even more impressive that it's nearly doubled that number in just two and half months to a recently announced total of more than 1.2 million as of mid-September.
Much like Momo's live video capability was a boost to the already popular app, Hello Pal is set to release a complimentary program focused more on travelers with the upcoming Travel Pal spinoff. Given that the app already has highly capable voice recognition in place, real-time language help for travelers outside of their normal comfort zones will have their confidence boosted by the app in their pocket.
Get the Hello Pal App here.
http://tinyurl.com/gqy3652
Braden Macke
Hello Pal International
604 683-0911
email us here
%img{:src=>track_image_url, :height=>1, :width=>1}