Got Renewable Energy Solutions? Take Them Now To Any Large City!
January 19, 2017 at 08:49 AM EST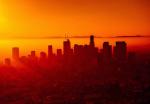 Companies with renewable energy services and products should be making friends with public officials in municipalities throughout the country. That's definitely where renewable power projects are occurring. Cities have numerous priorities and mandates, but every municipality is focused on sustainability, cost reduction and reducing the consequences of climate change. Many are taking bold steps to launch renewable power projects which benefit all three objectives.