Is the Defense Sector in the Crosshairs of Weakness?
February 22, 2019 at 12:16 PM EST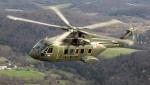 Last week, multinational investment bank Credit Suisse downgraded General Dynamics shares to neutral from outperform, citing that it will fall behind its peers in terms of projected growth for 2019. Does this mean impending weakness in the sector, which could affect the Direxion Daily Aerospace...