Leveraged ETFs Explained – Are They Really A Good Way To Earn Money?
March 04, 2019 at 09:45 AM EST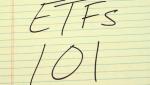 Just like an individual stock, an exchange-traded fund (ETF) can be bought and sold freely via an exchange. This dynamic ability gives traders the option to make quick intraday trades to seek a profit. Traders can also take advantage of leveraged ETFs in order to capitalize on the short-term...