Are Zero Interest Rates Only One Bad Recession Away?
October 16, 2019 at 11:27 AM EDT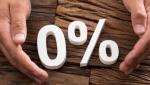 With the way Treasury yields have been falling the last few months, the bond markets were talking about how zero percent rates were within the realm of possibilities. Larry Summers, who served as former President Bill Clinton's Treasury secretary and as an economic advisor for former...