Traverse Bay Farms / Fruit Advantage has created and releases an infographic on 7 food that help people to boost the immune
(PRUnderground) April 7th, 2020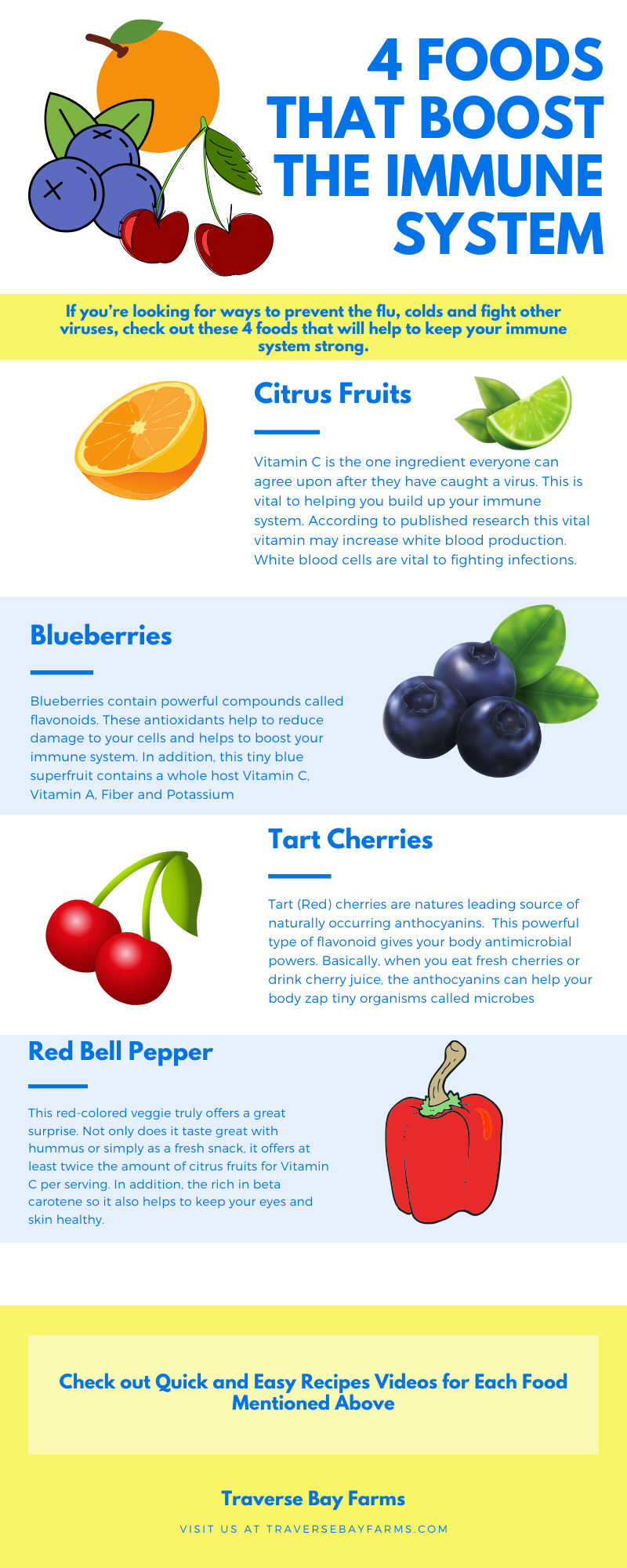 Traverse Bay Farms / Fruit Advantage has created and releases an infographic on 7 food that help people to boost the immune
The announcement is a welcome for people interested in boosting their immune system naturally. Due to the current circumstances, many people are experience increased stress and are looking for ways to boost their immune system.
According the Andy LaPointe, Director of Marketing with Traverse Bay Farms / Fruit Advantage, "People may not be familiar with simple foods that may increase the immune system naturally."
Mr. LaPointe continued, "This easy-to-read infographic outline some of these immune system boosting foods. What is great, we have also included several simple recipe videos showing step-by-step instructions how to get the immune benefits for every meal of the day. Simple food like cherry juice concentrate, blueberries and red peppers offer amazing health benefits. Since 2001 we have helped our customers to enjoy a healthy and active lifestyle naturally."
Keeping an strong immune system is vital to maintaining a health body during stressful times.
About Traverse Bay Farms/Fruit Advantage:
Traverse Bay Farms / Fruit Advantage has products distributed in over five countries across the globe and 42 States domestically in the United States.
For more information about Traverse Bay Farms/ Fruit Advantage and their products, visit their site at www.traversebayfarms.com or www.fruitadvantage.com and view the blog section.
About Traverse Bay Farms / Fruit Advantage
Winner of 26+ national food awards at America\'s largest and most competitive food competitions. Traverse Bay Farms is the #1 award winning super fruit company in America.
Offering an all-natural line of fruit salsa, fruit barbeque, dried fruit including dried cherries, dried blueberries and more. In addition, Traverse Bay Farms offers cherry juice concentrate and teaches about health benefits of cherry juice.
Fruit Advantage is the sister brand an offers a complete line of condition-specific, fruit-based supplements including tart cherry capsules, blueberry capsules, pomegranate capsules. In addition, Fruit Advantage offers a patented formula combining tart cherries with glucosamine and chondriotin. This one-of-a-kind supplement is called Cherry Prime – Complete Muscle and Joint Complex.
Press Contact
Name: Andy LaPointe

Phone: 1-231-533-8788

Email: lapointeandy@yahoo.com

Website: http://www.traversebayfarms.com
Original Press Release.