How much will the BTC price rise? Why does it rise? Join GokuMarket on the web or mobile app and explore the TOP 10 real-world use cases of Bitcoin.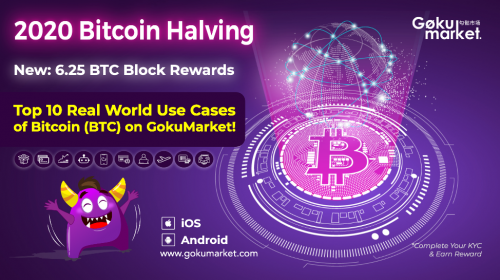 May 12, 2020 —
we just witnessed the third Bitcoin halving and history was made. The big question is, will the next Bitcoin halvings continue to increase the price? Nobody knows the future, but looking back at history and reading about the Stock-to-Flow Model, the answer is YES!
How much will the Bitcoin price rise?
Everyone wants to know how much the BTC price will increase? In 2012 the Bitcoin price was around $2.01, 2016 it was $664.44, and 2020 it was $8,515.05. Following this trend, what price will it be at the 4th Bitcoin halvening?
Why is it called halvening? In simple terms, the number of newly created Bitcoin that are created and rewarded with each transaction is reduced or cut in half, making Bitcoin more scarce and attractive. In 2012 it was halved from 50 BTC to 25 BTC, in 2012 to 12.5 BTC, and today to 6.25 BTC.
Why does the Bitcoin Price keep rising?
The price of Bitcoin is in a long-term rising trend for many reasons. First, there is a significant increase in people's awareness of what cryptocurrencies are and what new opportunities have emerged to easily buy/sell and use Bitcoin across the globe. Second, the supply of new Bitcoin being released is decreasing over time and there is simply a total limited supply of 21 million BTC. Third, countries around the world are printing billions of fiat currencies and distributing them to citizens, also known as QE (quantitative easing). Control of inflation is one of the reasons why everyone expects Bitcoin to have a progressive increase in price.
What are the TOP 10 Bitcoin real-world use cases on Gokumarket.com?
1. Buy/sell goods using BTC in the Decentralized E-commerce
2. Buy, top-up, & shop worldwide with Debit Card
3. Purchase Starter Kits with free perks
4. Trade BTC on the Crypto Exchange
5. P2P trade your BTC into Fiat currencies
6. Subscribe & AI trade with the Arbitrage AutoBots
7. Explore the LaunchPad projects
8. Hire freelancers using BTC for service gigs
9. Book your hotel, flights, and car rentals
10. Instantly trade your BTC into select crypto & fiat pairs
The above list of real-world utilities are great examples of how Bitcoin is making its way into the average household and increasingly becoming a medium of exchange and the money of the future.
If you are new to Bitcoin and crypto or even an experienced BTC trader or hodler, then visit GokuMarket.com or download & install the Android/iOS app to learn more about these utilities and how to become part of the next Bitcoin Halving & price run-up.
To keep the pulse on the Bitcoin industry, follow GokuMarket on Telegram and social media networks like Facebook, Twitter, Instagram and YouTube for quick updates on-the-go.
About GokuMarket - one marketplace for the blockchain economy
GokuMarket is a decentralized and secure platform with artificial intelligence-enabled digital assets escrow and automated trading algorithms that enables various real-world cryptocurrency applications; including peer-to-peer e-commerce, prepaid debit card and top-up, precious metals trading, P2P cash-in and cash-out of fiat with crypto, traditional crypto exchange, staking and many more possibilities.
Contact Info:
Name: Support Team
Email: Send Email
Organization: Gokumarket.com
Website: https://www.gokumarket.com
Release ID: 88957110