Are FAANG Stocks Likely To Continue Their Run?
August 21, 2020 at 18:41 PM EDT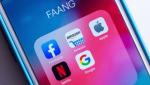 The NYSE FANG+ Index, which assesses the performance of a collection of 10 highly traded technology companies, such as Facebook, Apple, and Alibaba, has grown 65% in 2020. What is more impressive however is that over 50% of that growth has come in the past six months. Back in 2011 August 2013, Marc...