Ep 29: Marketing in the Age of Social Distancing – With Maribeth Kuzmeski, PhD.
September 20, 2020 at 11:00 AM EDT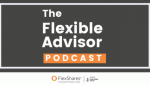 Just because you can't meet your clients face-to-face at this time doesn't mean you can't host extraordinary events and attract new leads. In this episode, Laura Gregg and David Partain are joined by Dr. Maribeth Kuzmeski, PhD, President of Red Zone Marketing. Maribeth shares some insights from her...