Masks for Life Initiative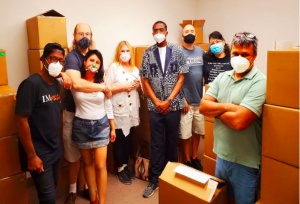 Masks for Life - Memnosyne Institute Team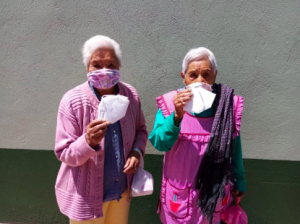 Masks for Life - Tribe Elders
Texas based initiative, Masks For Life, has donated $246K worth of KN95 Masks as part of an ongoing effort to protect Indigenous Communities Across the Americas
DALLAS, TEXAS, USA, October 13, 2020 /
EINPresswire.com
/ -- Masks For Life is a collaborative effort in response to the COVID-19 pandemic, led by Dallas nonprofit, the Memnosyne Institute, founded by Joshua Raymond Frenk and Mary Ann Thompson-Frenk, aimed at getting KN95 masks to indigenous communities in the Americas, as well as vulnerable underserved urban communities in order to flatten the curve.
So far this initiative has provided $246,400 worth of KN95 reusable masks for indigenous communities in Alaska, New York, Nevada, Texas, California, Montana, Puerto Rico, Hawaii, Mexico, Arizona, New Mexico and more and is continuing to seek to address urgent requests from across the Americas from the USA to the Brazilian Amazon with expected requests to continue.
Mary Ann Thompson-Frenk explains, "Like everyone in the world, we had planned logistically for 2020 without an inkling of a world pandemic. But thanks to our international network, we were able to create the 'Masks For Life' initiative to help protect communities that have historically suffered from exposure to foreign pandemics. Each one of these cultures is thousands of years old and if they lose their elders, who are among the most vulnerable to COVID-19, the whole world loses centuries of knowledge. We need more people to contribute."
Tonatiuh Ricardo Cervantes, president of the Centro Cultural Tolteca de Teotihuacan, puts the challenges many tribes face into perspective when he explains, "The savings with the free delivery of these masks for a family of six, who are peasants, artisans or workers can be greater than 500 pesos, which is what they receive in salary in a week."
The Memonsyne Institute needs to raise an additional $350,000 to provide more masks to the indigenous communities.
For information on how to donate, please contact
ybluehorse@aol.com
or go to The Memnosyne Institute FaceBook page or make a donation via PayPal.
Press Contacts:
USA - Isabell Rossignol (972)814-9419 -
isabellrossignol@gmail.com
Mexico – Silvia Pendas 52-55/5545-5302 5545-2273 -
spendas@pendas.com.mx
Europe – Sky Andrew +447961846111 -
sky@skyletandrew.com
Isabell Rossignol
Menosyne Institute
+1 972-814-9419
email us here