Is Your Portfolio Ready for the Return of Dividend Confidence?
November 17, 2020 at 09:40 AM EST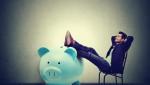 The first half of 2020 tried dividend investor patience amid a spate of payout cuts and suspensions, but with interest rates low and dividend confidence rebounding, the ALPS Sector Dividend Dogs ETF (SDOG) is an exchange traded fund worth revisiting. SDOG tries to reflect the performance of the...